Gate Operators

ELITE SL3000UL8 1/2hp Slide Gate Operator

ELITE SL3000UL8 SLIDE GATE OPERATOR

The Elite SL3000UL slide gate operator is one of the best products available on the market. In fact, this series from Elite is known as the "Rolls Royce" of the gate operating industry, meaning you can expect a high quality, reliable product to count on again and again.

Just some of the features of the SL3000UL model include an omni control board, adjustable timer, surge protection, an electronic reversing sensor, and much more. This model even features a weatherproof polyethylene cover and a gold zinc plated chassis.

Whether you own a residential or commercial building, the SL3000UL gets the job done when it comes to operating your gate. To learn more about this slide gate operator contact our office at (972) 226-7205.






---
FEATURES

Omni Control board with input/output LED's
Electronic reversing sensor built into control board
Precise synchronized movement between two gate operators using 3-wires
Adjustable timer from 0-60 seconds
Build-in 850LM radio receiver compatible with the 8-series & Max series remotes
Super quiet operation
Soft stop
Precision limit switches
Surge protection
Alarm reset button
Gold zinc plated chassis
Weatherproof polyethylene cover

MANUAL RELEASE GATE CAPACITY

Maximum gate length 37ft
Maximum gate weight 1,000 lbs
Speed of 12" per second average

MECHANICAL

#41 chain
30-to-1 wormgear reducer
½ HP continuous duty motor
Motor disconnect

MOTOR

1/2 HP
Instant reversing
Continuous Duty
High-speed ball bearing
120VAC
4amp

DIMENSIONS POWER

120VAC
4 Amp
On/off switch
Built-in 120V AC power receptacle

COMPLIANCE WARRANTY

7-Year single home application
5-Year commercial application
---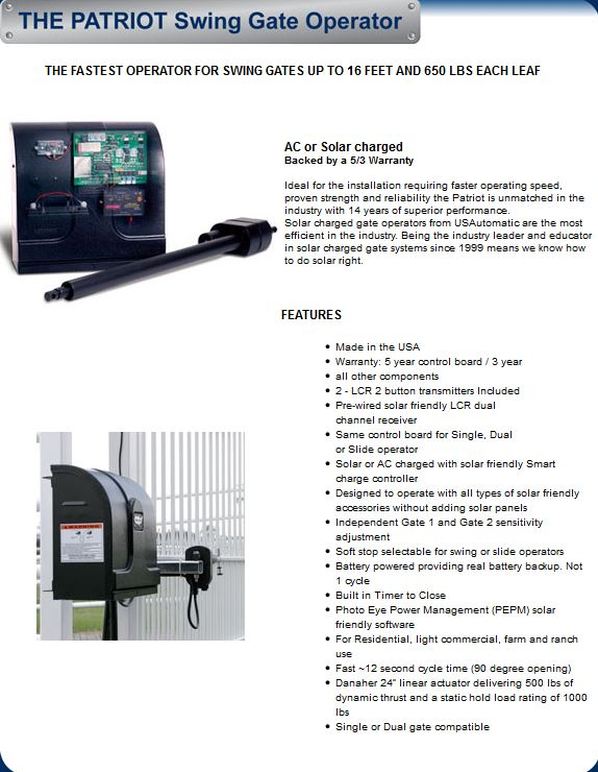 ---
The newly redesigned H-10™ slide gate operator features the VFlex control board with on-board diagnostics LCD display and a removable power supply box for low voltage wiring. The new chassis design provides easy viewing of the controls and integrated post-mount provisions. Featuring a built in heater, increased gate capacity of up to 2200 lbs., a 5 Year commercial or 7 Year residential warranty and Viking's true battery backup system. The H-10™ includes simple push-button digital limits setup, lockable cover and convenient access to the switch for manual release making this operator an excellent choice for both your residential and commercial needs.


---